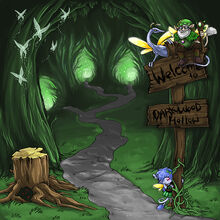 Darkwood Hollow is one of the various locations of the land in Misticpets, Mistica. 
This page was started by the player legendda.
Locations
Pomme Tree :: To the far left there is an entrance that leads to the Pomme Tree where you are allowed to pick one fruit each day. 
Forest Finds :: The middle path's entrance leads to the forest where you can search everyhour to see if you can take a new pal home.