"An ancient box comprised of powers that are innocent and pure."
The Baby theme is a Pandoria Box theme.
Description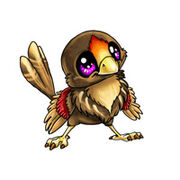 The Baby theme reverts your pet back to its baby stage. Baby pets are typically smaller and cuter versions of their
Normal
theme with exaggerated or underdeveloped characteristics, such as larger heads or smaller horns.