"Ravenous and bloodthirsty will be the constants in your life should you choose to welcome the power of this box into your soul."
The Apocalyptic theme is a Pandoria Box theme.
Description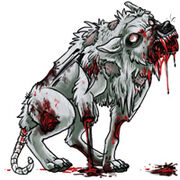 The Apocalyptic theme is modeled after a zombie apocalypse, with all pets using the theme appearing to be undead. New pets added to the theme are introduced in "waves" as being part of a growing viral pandemic. Officer Coppa appears to try to dissuade rumors of the existence of the pandemic and steer bystanders away.
MisticPals

The virus seems to have spread beyond the pets and infected their little pals as well. Like all themes, the Apocalyptic theme has items such as Misticpals modeled after them.